Looking for decluttering and organizing resources to help you get a handle on your home and family? The eBooks and journals below all offer a different approach to decluttering and staying organized.
Take a look at them to see which one will work best for you! I have included videos of two of the eBooks. All of the declutter and organizing resources on this page are available for immediate download and have a 60 day money back guarantee so you can make sure they are a good fit for you without worry of wasting your money.
Finally Organized Finally Free


Get More Information For Finally Organized Finally Free Here
Get 2,175 organizing tips, ideas and techniques to Help You Organize Your Home, Your Time and Your Life!
With Finally Organized, Finally Free for the Home,
you'll finally discover…
Easy effective organizing tips for every room in your home

Dozens of secrets for clearing the clutter and the chaos 

Good news–you don't have to toss everything to get organized! 

How to avoid getting overwhelmed with your To Do list 

Yes, you can be organized, even if you're a Pack Rat 

Find hidden energy and motivation to get started on any project 

Creative and inventive storage ideas that you can apply immediately 

Short on storage space? Not a problem! 

Clean your house in half the time 

Conquer your laundry mountain and get back in control 

Snap up your routines and increase your productivity 

Never forget a birthday, event or appointment again 

Have a schedule and be spontaneous at the same time 

Slay the raging, paper beast 

Organize your computer files and email with ease 

Get twice as much done in half the time 

Take the "Keep or Toss Test" to help you decide what's clutter and what's not 

How to reduce your junk mail, both offline and online, by sixty percent or more 

The secret to getting your whole family into the organizing game 

End morning madness and start each day on the right foot 

How your computer can help you be more productive 

How to reach your goals, the SMART way 

Get everywhere . . . on time! 

How to say no and not feel bad about it 

Achieve more of what you set out to do 

Make each shopping trip productive 

and much more! You'll discover 2,175 tips and ideas inside! 
Get More Information For Finally Organized Finally Free Here
GoodBye Clutter
Click here for more information on GoodBye Clutter
Goodbye Clutter Program Comes with FREE LIFETIME Updates and a 60 day money back guarantee.
Module 1: Goodbye Clutter (Physical)
Module 2: Goodbye Clutter (Paper)
Module 3: Goodbye Clutter (Digital)
Module 4: Goodbye Clutter (Emotional)
Bonus 1: Clear the Clutter: 150 Things You Should Throw Out Right Now
Bonus 2: 10 Jump-Start Decluttering Projects
Bonus 3: One Day Declutter Mission
Bonus 4: 31 "Goodbye Clutter" Inspiration Cards
Bonus 5: 31 "Goodbye Clutter" Motivational Quotations
Bonus 6: Lifetime – "Goodbye Clutter" Facebook Support/Inspiration Group
Click here for more information on GoodBye Clutter
Get Organized Get Happy
Click here for more information on Get Organized Get Happy
Here is a quick preview of the information you'll have at your fingertips with Get Organized Get Happy.
What you get is a proven practical room by room, step by step blueprint with flexible strategies that you can make your own.
Easy to understand language… and specific tips for all those clutter hot spots in your home like clothes, closets, files and paperwork.
5 decluttering methods so you can swap, change and use what really works for you and the one decluttering technique that you must know.
Not everyone is the same, or has the same amount of clutter so these strategies and techniques can be tailored to your energy, time and mindset.
And that's just a small taste of what's inside the eBook.
The one rule that immediately blocks clutter from your home (page9)
How to identify your clutter and let go with confidence (pages 10,12)
Your 7 biggest clutter traps and how to get out of them (page11)
The 3 biggest mistakes that sabotage any clutter clearing forever (page 22)
40 Items you can get rid of right now that won't make any difference to your life (page88)
The 15 keys you must know to declutter from the inside out (pages 13,53,76)
5 room filled out decluttering blueprint for professional hand holding support, so you have an example to follow (pages 25-39)
5 room filled out organizing blueprint for even more step by step hand holding support (pages53-75)
How to dump your mental clutter for a fresh start (page 11)
5 step foolproof clutter busting system (page 15)
Why the Clutterfree keys double your storage without spending a cent (page 77)
The 7-second keystone habits that will keep your house neat and tidy (page 46)
The 1 decluttering technique you absolutely must follow or you are doomed to failure (page 22)
Bonuses:
Bonus 1: BeFree Blueprint Planners
Bonus 2: How to make Cash from your Clutter
Bonus 3: The One Stop Home Binder for your incoming paper information
Click here for more information on Get Organized Get Happy
Get Organized Now – Easy Planner
Get More Information on the Easy Planner Here
Loaded with tons of forms, checklists, logs and information sheets to help you organize every aspect of your life!
Inside the Get Organized Now!™ Easy Organizer you'll find forms, checklists, logs and information sheets for:
Family, Friends and Associates
Family Info
Pet Info
Important Phone Numbers
Frequently Called Numbers
Address/Phone Directory
Babysitter's Checklist
Goals and Planning
Major Goals
Mini Goals
Goals Progress
Daily Planner
Weekly Planner
Monthly Planner
Time Log
Master List
Daily To Do List
Projects Plans and Progress
Personal Growth and Reflection
Journal
Great Ideas
My Wish List
Daily Prayer List
Special Prayer Requests
Spirit Lifters
Decision Making Worksheet
Home, Garden, and Auto
Home Maintenance
Home Repairs
Household Appliances
Gardening-Master
Gardening-Flowers
Gardening-Plants
Vehicle Maintenance
Mileage Record
Inventory
Home Inventory
Book Inventory
Video/DVD Inventory
Audio Inventory
Lenders/Borrowers Reminder
Photograph Documentation
Food and Shopping
Groceries-Filled
Groceries-Blank
Meal Planner
Recipe Instructions
Mail/Internet Order Record
Monthly Spending Record
Cleaning and Chores
Family Chore Chart-Filled
Family Chore Chart-Blank
Kids Schedule
Cleaning Checklist
Cleaning Schedule
Health, Exercise and Medical
Balanced Diet Log
Nutrition Worksheet
Nutrition Summary
Exercise Log
Walking Log
Quick Health Info
Doctor Visits
Medication Schedule
Temporary Medication Log
Things to Do
People to Visit or Contact
Places to Go
Books to Read
Movies to See
Restaurants to Visit
Calls to Make
Television Schedule
Instructions Checklist
Special Occasions
Birthdays
Special Occasions
Gift Ideas
Party Planner
Holiday Card Record
Computer
E-mail Log
Web site Log
Computer Hardware
Computer Software
Vacation and Travel
Packing Checklist
Travel Expenses
Traveler's Emergency Info
Vacation Schedule
10-Minute Vacations
Meetings and Presentations
Presentation Outline
Meeting Planner
Meeting Agenda
Meeting Notes
Home Office and Business
Office Supplies
File Folder Maps
Contacts
Marketing Schedule
Marketing Results
Customer Data
Referral Log
Training Log
Delegation Log
Your Ideas and Reordering
Re-order Form
Your Ideas and Suggestions
Click here for more information on Get Organized Get Happy
List Plan It
Journals to organize your home, life, and daily tasks. Get & Stay Organized. Try it Free for 30 Days!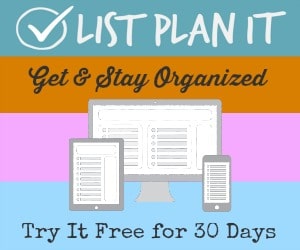 Homemaking E Planner
Cleaning lists and home project planning: Homemaking ePlanner provides the tools you need to make your house a home.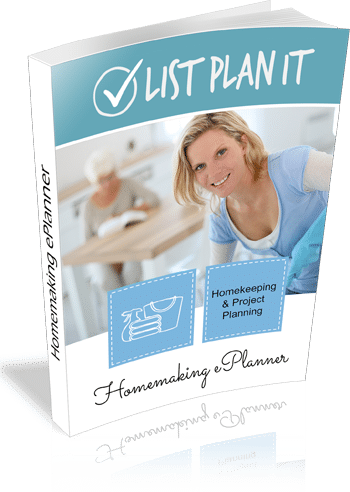 Home Planner
Everything you need to help you plan, organize, maintain, and inventory the contents of your home.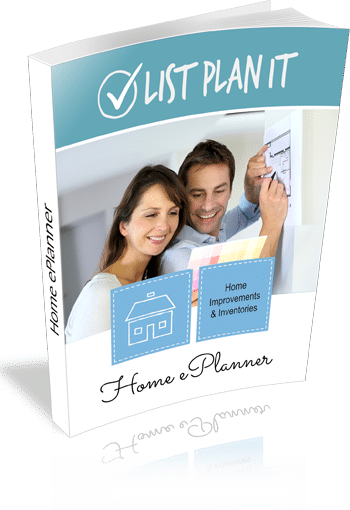 Save
Save
Save
Save
Save
Save