Add to Flipboard Magazine.
Welcome to Week 1 of Declutter Your Home Fast – Organized In 30 Days Or Less!
Are you looking to declutter your home fast? Are you sick and tired of looking at the mess around you that seems to grow faster than you can clean it up? I want to help you stop the feelings of frustration & failure.
The truth is if you're anything like me, you are busy and often too tired to do the things you KNOW need to be done after a long day of doing what you do. Whether you're a working mom, a stay-at-home mom or a work-at-home mom – you're 2 things. Busy & busy!
It's disheartening to walk into a room (just pick one) just to find an overflowing laundry basket, dirty dishes piling in the sink, an unmade bed and/or dirty toilets. There are a million things that need to be done but other things take priority over doing anything more than the basics when taking care of your home.
That doesn't mean that you don't long for want a home that you can feel proud of. It simply means that you're overwhelmed and just don't know where to start.
Help Me Declutter My House!
Hopefully, your house doesn't look nearly as bad as mine did before I FINALLY got a handle on things. I completely understand where you're coming from and why you haven't crossed all those housekeeping tasks of your very long To-Do list.
After searching high & low for something – anything, that would help me conquer all the chaos that my home was, I stumbled across this "secret".
OK, so it's not really a secret but it felt like I was unlocking the proverbial treasure chest once I figured out that this secret system worked for me.
As a matter of fact after just a few days my house looked better and I began to feel better about it. After the full 30 days my own mother didn't recognize it. 🙂
And the best thing?
I'm now able to keep chaos at bay spending just a few minutes a day to maintain. That is exactly why I decided to share with you what worked for me.
So, lets start getting your house, your home, your life organized! It's easy enough. Don't believe me? Stick around for all 30 days and you'll see how easy it can be to get your home organized.
Before we dive in and get to organizing your home, I would like to invite you to download the 30 day challenge
Get Organized Get Happy – The Simple Guide to Declutter and Organize your Head, Home and Heart in 7 days or less complete with planners and professional organizing blueprints Click here for more information.
Declutter Your Home Fast – Organized in 30 Days Or Less
Day 1- The "Spot"
Today's task is to tackle "the spot". You know the one. It's the spot where you dump everything when you come home from work.
For some, it's that little counter to the side of the fridge. For others, it's the table in the foyer. It doesn't matter where it is for you.
Just get an empty box and dump everything in it. Everything.
Wipe "the spot" so that it's nice and clean. Admire it for a moment.
Ok, now, it's time to get to work. Set yourself up at the dining room table or your kitchen island. Now, we're going to sort through the box.
Make piles for mail, bills, books, things that need to go in other rooms etc. Throw out anything that you don't need. Once it's sorted, put each stack in its place.
This really shouldn't take too long; it only seems overwhelming. Trust me. That's it. You did it!
Day 1 is complete. ☺
Pat yourself on the back. Better yet, write yourself a note and stick it on the fridge. Remind yourself that you can and will get organized!
Day 2- Front Closet
Ready for your next task?
Let's tackle the front closet today.
Take everything out. The coats, the hangers, the boxes – everything. Sweep or vacuum the floor and wipe down the shelf.
Before you just stick everything back in and close the door – stop. Sort through what you own. Do you need it? Does it still fit? Be brutal.
This is the front closet, not a storage unit. Your guests will use this and it should look presentable.
Put nice, inexpensive baskets on the shelf for storing out of season gear, like hats, gloves and scarves. Get some wooden hangers for the coats, making sure that you have plenty of extra ones for guests to use. They may seem like an expensive item but you can get nice wood hangers for less than $10 at any Super Store. Line up any shoes or boots neatly in the back. After your purging, cleaning and new storage solutions, this closet should look like a million bucks.
Closet Baskets and Bins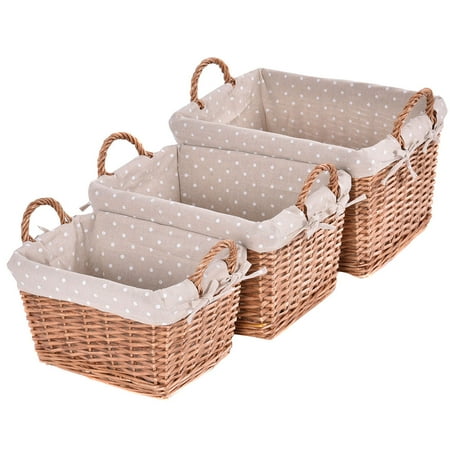 Storage Baskets at Walmart
Decorative Bins and Baskets at The Container Store
Storage Baskets at Target
Wooden Hangers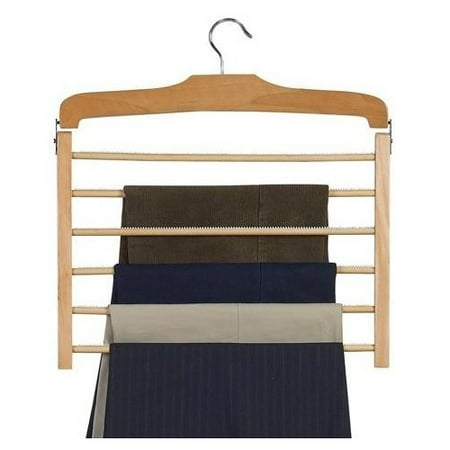 Wooden Hangers at Walmart
Wooden Hangers at Target
Wooden Hangers at The Container Store
If you have extra time today, take five minutes and step outside. Give the front porch a quick sweep, wipe the cobwebs off the coach light and shake out the welcome mat.
Doesn't it feel better to have such a welcoming entrance to your home?
Day 3 – Formal Living Room
Today we're going to work on organizing the formal living room in your house.
If you think there's not much to clean and sort through, you're probably right …and wrong.
Most formal spaces are already neat as a pin. We don't live in those rooms; sometimes we don't even enter them. We tend to hide our chaos and clutter in the back of the house, in the rooms most guests don't see. That's fine. But, we are on this mission to organize our homes and taking a day for this room is still extremely useful.
If you have clutter or objects that do not belong in this room, by all means, take care of it now. If not, what have you always wanted to do to this room? Take the time now to try the sofa on another wall. Take the time to finally hang up that picture. Or, even, take the time to order new curtains.
Do whatever it is that you have been putting off. So much of our lives is disorganized because we are constantly on the go and do not take time to do the little things. The next thing you know the little things have piled up into one massive BIG thing! I hereby grant you the time today.
What are you going to do with it?
Day 4 – The Family Room
Today we are tackling one of the messiest rooms in the house. The Family Room.
Take a deep breath and let's get to it.
Get four tubs or boxes and label them "Toss", "Donate", "Keep" and "Relocate". Keep is for items that will stay in this room and Relocate is for things that need to go somewhere else in the house. Starting in a corner, work your way around the room. Clear off the top of each horizontal surface and empty out every drawer. Put the items in the appropriate bins.
Be strict with yourself about what you keep. Do you really need your collection of design magazines from 1992? Do you need a Barney VHS video when your "baby" just turned 12? Your local library loves donations like this. Better yet, with today's modern technology and streaming services like Netflix, you can probably watch most of the movies in your collection at no additional charge. Why not donate them all? Imagine all that extra space.
Games are another challenge for the family room. If you can find all the pieces, then make space in a cabinet so your family can easily access the fun. If you are missing too many pieces to make it work, get rid of it. Who wants to play Yahtzee with only 3 die?
Make sure you clean, dust, wipe, whatever before you replace the Keep items. This includes the back of the electronics, the top of the picture frames, everything. You'll thank me when you're done.
Day 5 – Keeping It Organized
Today is an easy day. Yesterday was tough and you made it through. If you have anything left to finish, go ahead and do that now.
Pick up any mess your family has made in the last 24 hours. Run the vacuum in your clean new family room, straighten a pillow or two, or just stand back and admire how amazing it looks.
Next, why not reward yourself for your determination and do a little shopping?
Head to a Super Store, an office supply store or your favorite storage specialty store and have some fun. Buy a label maker. These useful little things may seem a little Type-A but Type-A is good in your new, organized home.
Your plan is to stay organized, right?
The process of discretely labeling boxes and other containers can help you both remember what is in them, and make it easier and faster to replace that item properly.
You can also investigate nice storage tubs, pretty file folders and unique baskets. They do not have to be expensive to be effective. If you can afford it, buy a bunch; we have 25 more days of organizing to get to and a lot of rooms, drawers and shelves to organize.
GoodBye Clutter
Get Organized Get Happy
Day 6- The Junk Drawer
The dreaded junk drawer.
No wait. Don't run screaming out of the room. Don't pull your hair out. You CAN do this!
Your junk drawer may be in the kitchen or the laundry room. You may even have two or three. Wherever they are, however many you have, let's get them organized. Don't worry about the rest of the stuff in the room; we are just concentrating on the junk drawer(s).
Dump it.
Literally. Do. It. Now.
Dump everything out on the counter next to you. Now, as gross as it may be, wipe the drawer with whatever all-purpose cleaner you use. It may be so bad that it needs to be vacuumed first; just do what you need to do to get it cleaned.
Now, get out that labeler and some disposable plastic tubs. The same company that makes the zipper top sandwich bags makes a line of cheap plastic food storage tubs that fit perfectly in junk drawers. Usually four fit inside the drawer. They can be labeled with anything from keys to change, from nails and screws to first aid.
Sort through your pile and put each usable, salvageable item in the appropriate tub. Anything that is broken or no longer useable, toss. Anything that goes in another room should be returned to that room.
When you are done, I dare you to resist the temptation to pull open that drawer 101 times to stare at its perfection!
Day 7 – Mud Room/Laundry Room
Wow! You made it a whole week. Congrats!
Today we are tackling your mudroom/laundry room. This room can get quite neglected, especially if you have kids and pets. Muddy boots, wet dogs and spilled dog food are everyday events in this workhorse of a room. It's time for a little TLC.
Our process is the same in this little room as in the previous ones. Get everything off the horizontal surfaces, off shelves and out of drawers. Toss or donate anything that doesn't get used, doesn't fit or just is out of date.
Give everything a good cleaning. Wipe down the front and top of your washer and then run it, once with 2 cups of vinegar and hot water and again with just hot water. Your dryer could use some attention, too. Empty the lint trap and vacuum well behind, underneath and along the sides.
Now, time to organize. Larger baskets can hold out of season items like boots, gloves and scarves and be kept on the uppermost shelves. Store dog food, cat food and kitty litter in large plastic tubs to avoid spills from ripped bags. A smaller basket can hide the detergent, dryer sheets and all those laundry extras like stain sticks and hydrogen peroxide (takes blood out in seconds).
If you have money to invest, now would be a great time to invest in some stylish yet sturdy wood lockers. Each family member can have their own space in which to corral all their personal gear such as shoes, coats and backpacks.
Wood Storage Lockers at Walmart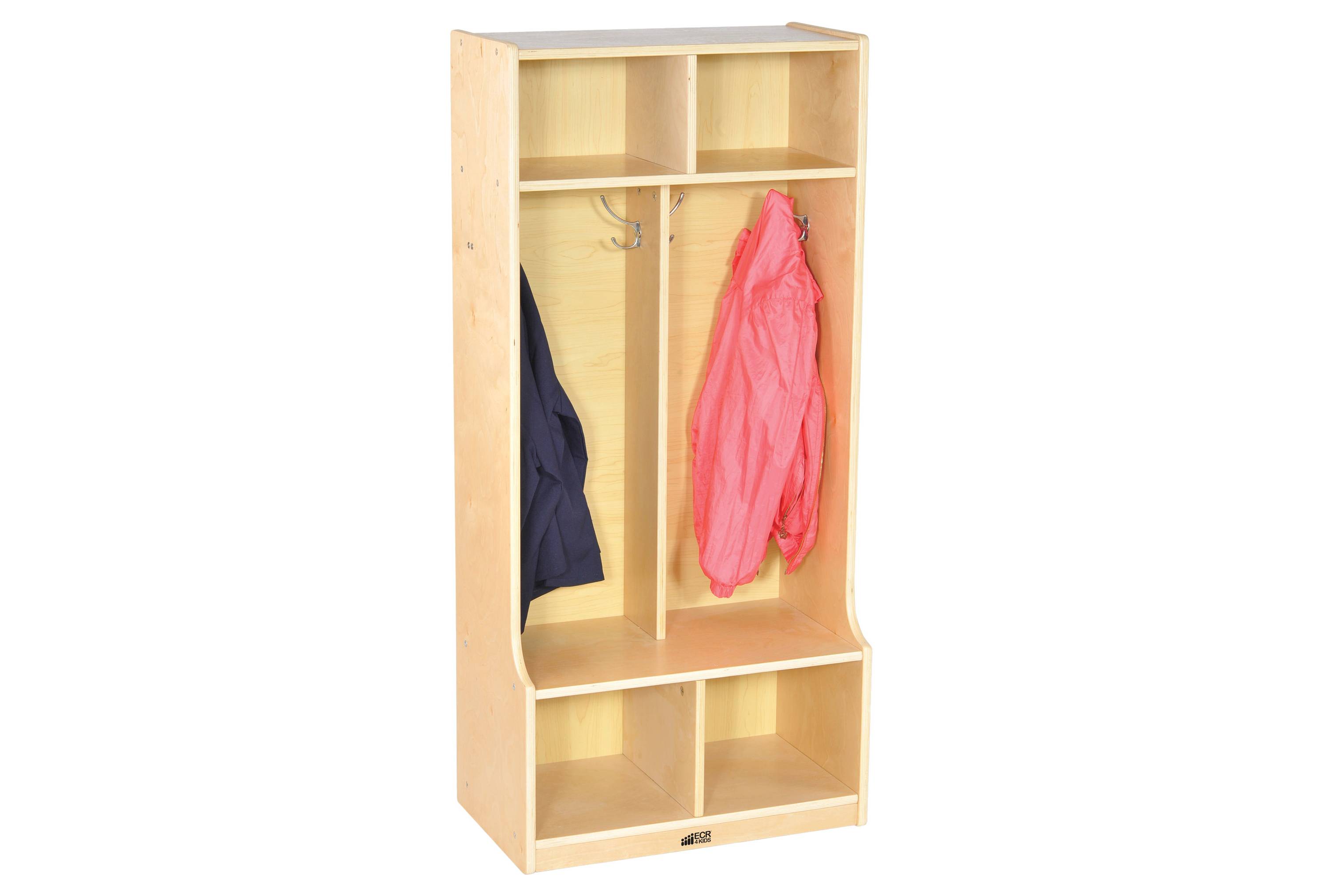 2 Section Coat Locker with Bench
Storage Benches at The Container Store
Need more help with decluttering? If you have clutter, Maria can help you. She has devoted her life to busting clutter and is on a personal quest to help as many people get rid of it so they can live more organized, stress- free, joyful lives. She just released a brand new resource called… GOODBYE CLUTTER Click here to see what she can do for you!
Add to Flipboard Magazine.Save
Save
Save
Save
Save
Save
Save
Save