.
Congratulations!! Give yourself a huge pat on the back for making it through week 1 of Declutter Your Home Fast – Organized In 30 Days Or Less
I know you worked hard to get to this point. It was like my world was being sucked right out of me when I made the decision to take my house back. It was a grueling process but if I can do it so can you!
Keep up the good work and remember to maintain everything you have accomplished up to this point. You don't want to take one step forward and two steps back. Keep moving forward!
Need more help with decluttering? If you have clutter, Maria can help you. She has devoted her life to busting clutter and is on a personal quest to help as many people get rid of it so they can live more organized, stress- free, joyful lives. In fact, she just released a brand new resource called… GOODBYE CLUTTER Click here to see what she can do for you!
Day 8 – Home Office
We are about to start out first 2 day project -Your home office or office area. Don't freak out; you can do it.
Don't picture the 12 years of tax receipts spilling out of shoe boxes or the pile of need-to-file bills shoved in the back of the drawer waiting for you to have some extra time. Concentrate on getting this project done in small, manageable chunks.
First, clear everything off your desk; use the large work surface as a staging area. As you empty out each drawer, create piles of similar items on your desktop. Continue until you have emptied every possible place there is for clutter to hide in this room or work space.
You will have a lot of piles: bills, tax documents, house paperwork, investment stuff, warranties, and insurance policies. A lot. Not to mention, staplers, pens, pencils, 3-hole punches, staple-taker-outer-things and all the other necessities of a well-stocked office.
Don't worry about organizing this today.
Just get it out in the open. Concentrate on sorting through it.
Anything that doesn't belong in this room needs to be returned to its home. Clean the drawers and shelves that you will be using again so that everything is ready for your next task tomorrow.
Filing Cabinets
Desktop Organizers
Drawer Organizers
Day 9 – Home Office
Back to the office or work space. So, if you did everything you were supposed to yesterday, you should have a room full of piles of stuff. It probably looks worse than it did before you started.
Go through each pile and see if you can toss anything out. Old utility records really don't need to be kept more than 12 months back. Most tax records and receipts do not need to be kept longer than 10 years. Give your accountant a quick call and ask if you can shred anything older with a high quality cross- shredder.
Take the time to go through each and every file folder. Eliminate unnecessary paperwork. Make a new label, if needed, or even a whole new file folder. Once all your paperwork is contained, channel your inner librarian and put them in alphabetical order before putting the files back in the drawer. Move the little plastic tabs so they can easily be seen and accessed.
Organize your desk or work space according to need; if you don't use it, either donate the item or put in on the highest shelf.
Get everything off the floors. If your diploma is sitting on the floor, looking forlorn, take the time to hang it up.
When you are done with this room, everything should be clean and organized, purged and simplified, lean and mean.
Day 10 – Create a Home Management Binder
You worked so hard the last two days getting your office running smoothly that I thought this would be a great time for an easier, slightly more fun project.
We are going to create a "Family Binder". You will need a 3-ring binder and some plastic document sleeves. This binder will make you feel like the Queen of the Organized, I promise. Basically, it just collects everything you need to know about each member of your family in one spot.
For each child include their pediatrician's, dentist's and any specialist's names, addresses and phone numbers, any known allergies, regular medications, health insurance information (policy number, phone numbers, required hospital) and a copy of their birth certificate.
Each adult member of the family should have the above information as well as a copy of their marriage certificate (or divorce decree), a copy of their will, life insurance policy information (policy number, phone number), a copy of their living will or medical power of attorney, and a list of credit card account numbers and contact information (in case your wallet is ever stolen). If you are online a lot, a list of computer screen names and passwords is helpful.
Create a list of important contact names should an emergency arise. For example, your mother-in-law will have no way of knowing how to contact your brother in California, if something happens to both you and your spouse.
Keep this book in your office, yet tell a few family members so they know what to do. If you don't have a will, living will or medical power of attorney yet, now would be a good time to talk about it.
This book should come together rather quickly because you have such a nice, clean and organized office.
Day 11 – The Pantry
Today it's back to cleaning.
Today we are going to concentrate on the kitchen pantry only. If you don't have a pantry, clean out the cupboards that are used primarily for food storage.
Clear off your kitchen table and pull it right up to the pantry. No need for extra steps today. Take everything out. Yes, everything. It's important to get a good cleaning in before you start organizing. You'd be surprised how many stray bits of dog food, onion skins and stale heels of bread you'll find.
Once it is all out, give all the shelves and floor a thorough cleaning. Place plastic storage tubs on the floor. If you have larger items, like 50 pound bags of dog food or 100-roll packs of toilet paper from the warehouse club, this would be a great solution for hiding them out of the way.
Put larger appliances that you do not use on a regular basis up on the top shelf. The stand mixer, bread machine and automatic ice cream maker all fit neatly out of the way up there.
Put items that tend to get messy in plastic, zipper bags or in clear containers. Flour, sugar and dried pasta are all well-suited for this.
Sort your cans into like items and line then up neatly, label side out. Group other like items as well, such as rice, pastas and extra condiments. You can even use baskets for things like baking items, so they can be easily accessed at once by simply removing the entire basket.
A few extra minutes spent reorganizing every time you grocery shop can easily maintain this ordered look.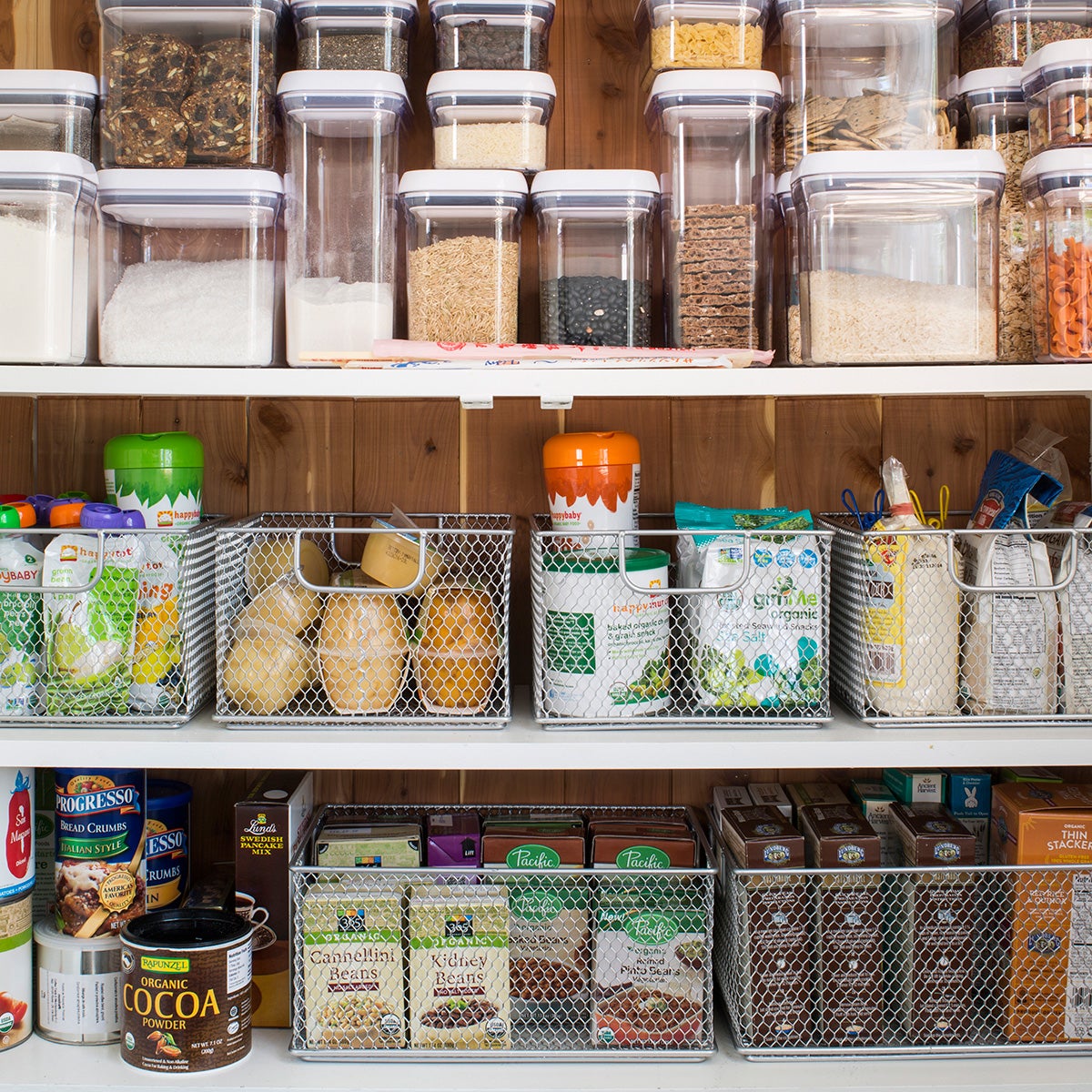 Pantry Starter Kit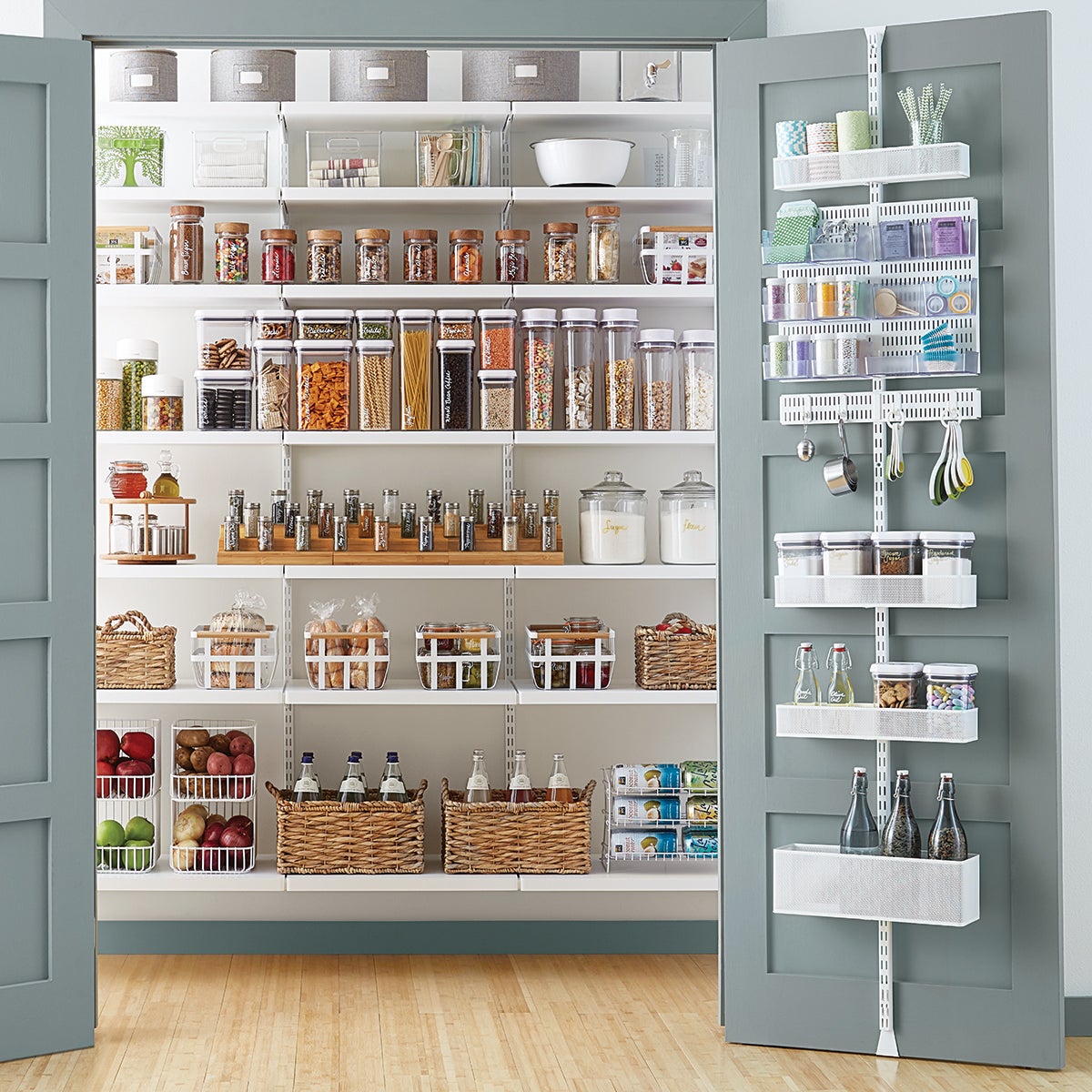 Over The Door Pantry Racks
Pantry Organization
Day 12 – Your Refrigerator
Today we're tackling the fridge.
We need to empty and clean it. While not technically part of organizing your home, we always run out of time for projects like this so I am giving you the gift of time – now get to scrubbing!
Remove all the food from your refrigerator. Check the dates and throw out any expired items. Remove all the shelves, trays and drawers and wash according to your manufacturer's instructions and then clean the inside as well.
Replace the food and condiments in an orderly fashion. Try to group like items, salad dressings on one shelf, breakfast items like jam and syrup on another.
Repeat the process of removing everything, cleaning and then re-organizing with the freezer. If any items have been in your freezer longer than 6-12 months, now would be a good time to toss them.
This is also a good time to replace or re-order the filter for your in-fridge water system.
Now, take off all that stuff stuck to the outside of your fridge. Scrub down the exterior and replace just one or two pictures with magnets. You would be surprised how cluttered all that stuff makes your kitchen appear. Try to go for a minimal look.
Day 13 – Kitchen
You guessed it. We are working on the rest of the kitchen today. It's a big project.
Be vigilant. Empty out each of your cupboards and wipe them down, inside and out. Before replacing the cooking paraphernalia, make sure it is not cracked, broken, never used or missing pieces. Toss or donate it. Be strong.
A larger plastic tub for food storage containers and their matching lids is a great way to corral them. Also, many kitchen stores sell special organizers just for pot lids that may help in your kitchen as well.
The silverware drawers can be super messy. Remove everything, clean the tray and replace. Toss or donate any kitchen gadgets that you once thought were amazing but really never use.
Unless you use an item daily, like the coffee pot, get it off your counter. An array of small appliances lining your counters is just more clutter. Find a place to put them.
Sort through your spices. They usually only last a year or so. If you haven't used it in ages, smell it. If it's old, it probably doesn't smell strongly any longer. Throw it out.
You can purchase a container that attaches to the door of the sink cabinet to stuff all the plastic grocery bags in and a basket or plastic tub can hold all the soaps, sponges and scrubbies.
Aaaahhh! Doesn't that feel better?!
Sink and Under Sink Organizers
Kitchen Drawers
Cabinet Organizers
Day 14 – Preserving Memories
Today is another sit-down day. Get all your recipes and cookbooks together. All those pages discretely torn out of magazines while waiting at the doctor's office, the quickly scribbled notes at the office pot luck, the pre-printed recipe cards from that cookie exchange you attended 4 years ago, grab them all.
Sit down and sort through them. If there is only one recipe you like in an entire book, rip it out and donate the book. No sense in having it take up space.
Take this time to call your mom, your grandma and your best friend's cousin. Ask for your favorite recipes. Do it now before the recipe is lost or forgotten.
Now take the time to put everything in a book.
Do a little research online; there are tons of websites that specialize in self- publishing or cookbooks. Getting all those loose pieces of paper into one cookbook is a great way to get organized and it saves a ton of space.
You can even take this one step further and order extra copies for holiday gifts. If you always wanted your mother-in-law's recipe for homemade salami, chances are other family members did, too and you can actually claim to be the prepared gift-giver this year.
Get Organized Get Happy – The Simple Guide to Declutter and Organize your Head, Home and Heart in 7 days or less complete with planners and professional organizing blueprints Click here for more information.
Save
Save